What is a Control Zone and how do I set up one (or many)?
Prey allows you to set up Control Zones and automate actions whenever devices enter and/or leave said zones. This is specially useful for users who lend devices and do not want them to leave a neighbourhood, city, or even state!
Let's set up our first Control Zone now!
You'll need to go to your Prey panel, and select the "Control Zones" option on the lateral tab: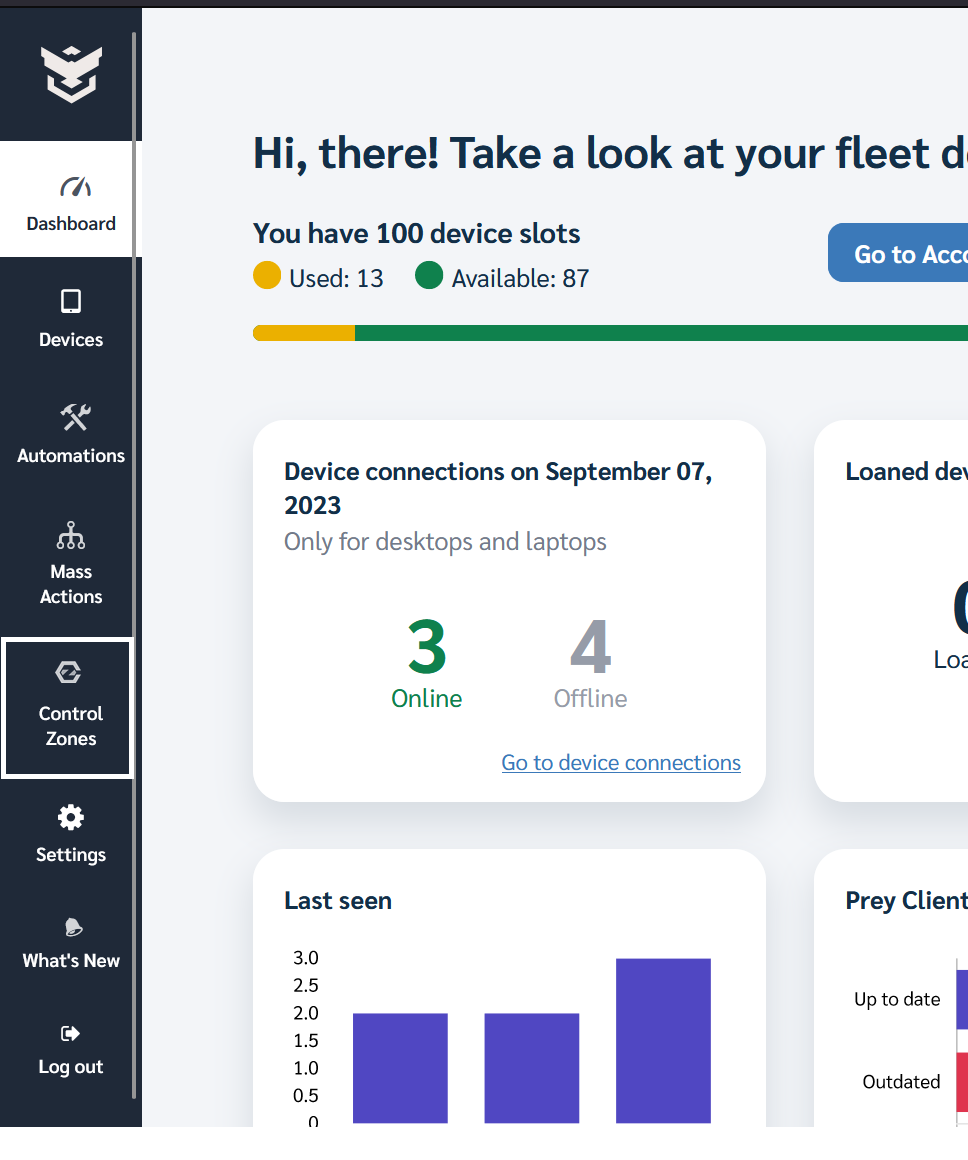 Then, you'll see an option to create your new control zone right away. Just click on "Let's do it!"
Your web browser may ask you to get permission to get your location. While this is not mandatory, it may make your process easier if you are setting a Control Zone right where you are now, as it will display the map around your current location.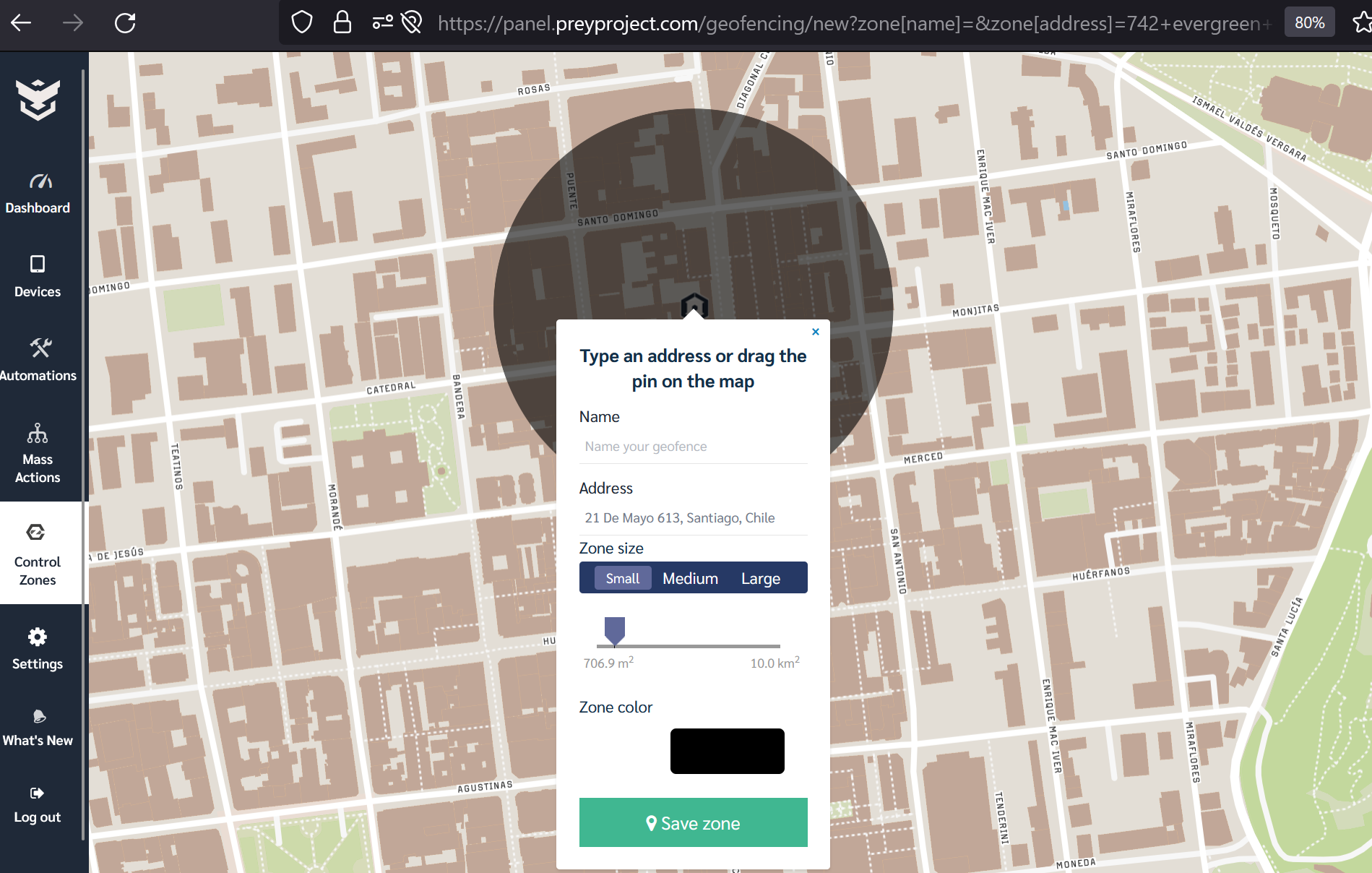 You can fine tune the search by dragging the pin and moving it on the map, or by typing down the address you want to have at the center of the control zone. You can also give the Zone a name and/or color if that helps you identify it later on (specially if you plan to have many Control Zones).
Another important thing you can do there is to select the size of the Control Zone. For this, it is important to consider, specially for laptops/desktops, that location tracking accuracy may vary depending on how many WiFI networks with strong signal may be around. Therefore, if you are setting a control zone on a rural area, please consider a bigger size that you would normally consider for this purpose.
Once you are ready, you can click on "Save zone", and the control zone will be ready to be configured!
Setting up Control Zones actions
Control zones allow you set up automatic triggers that integrate with the zone settings to precipitate reactions, allowing you to save time and manage your devices in a much more effective way. Previously, you could only get notified via email each time a device left or entered an area. 
Now, you can also set actions when a device enters or leaves a specific Control Zone, or both instances if you wish. This particular feature helps you manage and keep greater control over your managed devices in an automatic way. 
The following actions can be activated based on a pre-configured rule. 
Once you already have a Control Zone created, you can edit them in order to add devices and actions. You'll first need to click on the control zone you have, and then you can modify it by clicking on the blue pencil button on the top left of the screen.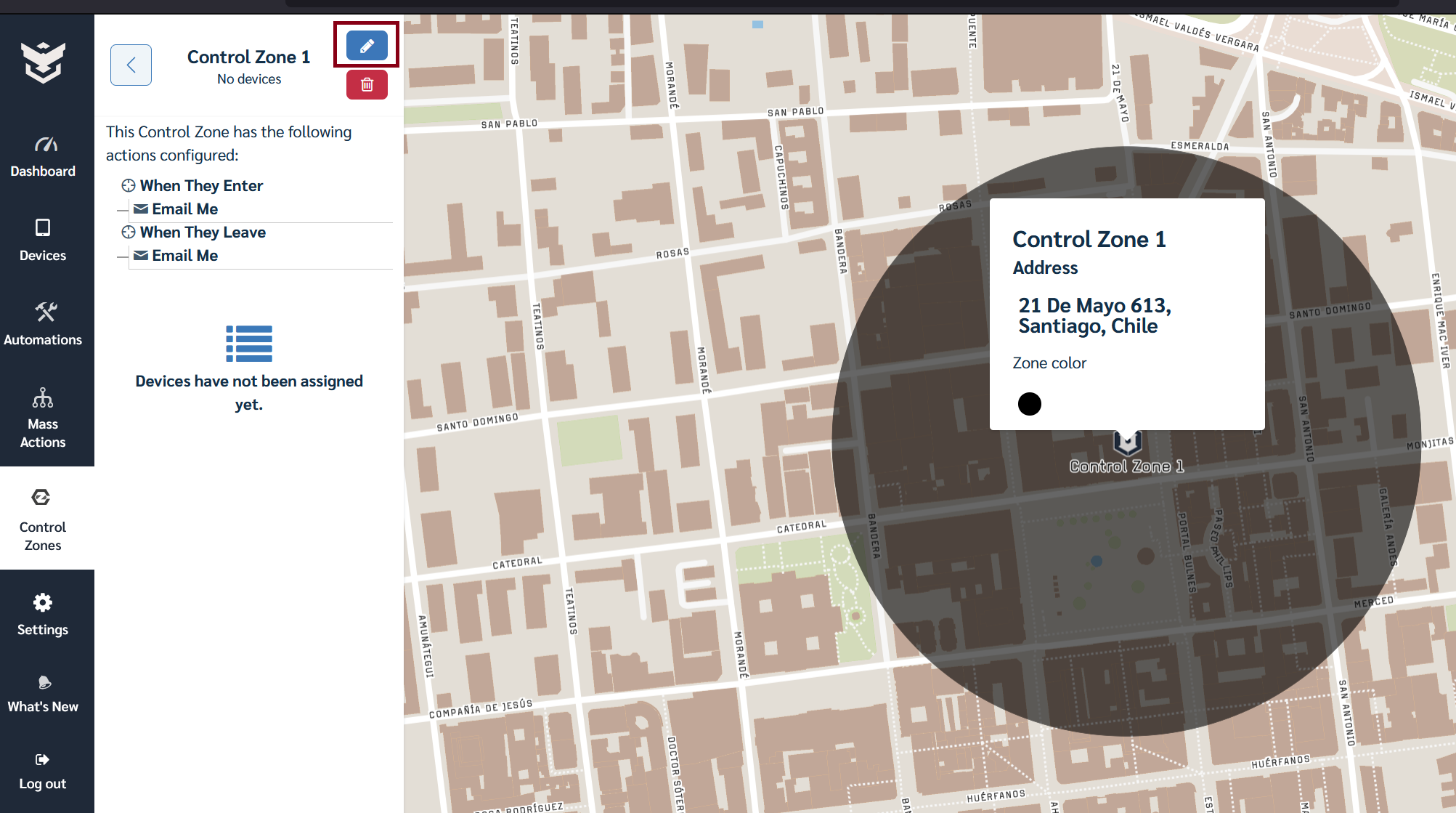 There, you'll be able to add the devices you need on that control Zone and set up the actions you want triggered. You will also have the option to receive emails for those events. In order to add devices, just click on the square next to them.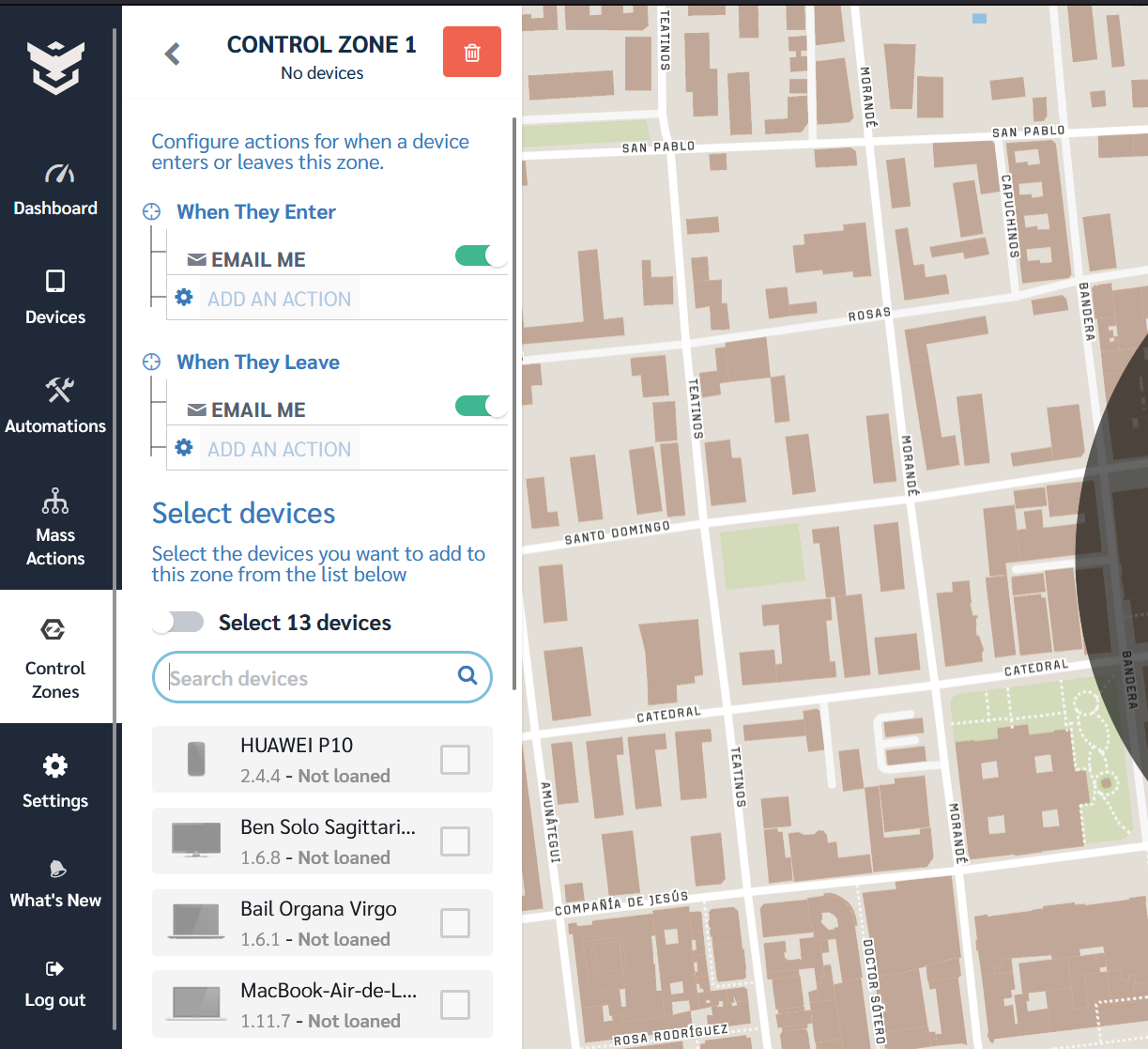 When you click on the "Add an action" option of the the enter/leave setting of the Control Zone, you'll be able to select what is going to be triggered. You'll just need to click the option of your choosing and save the changes: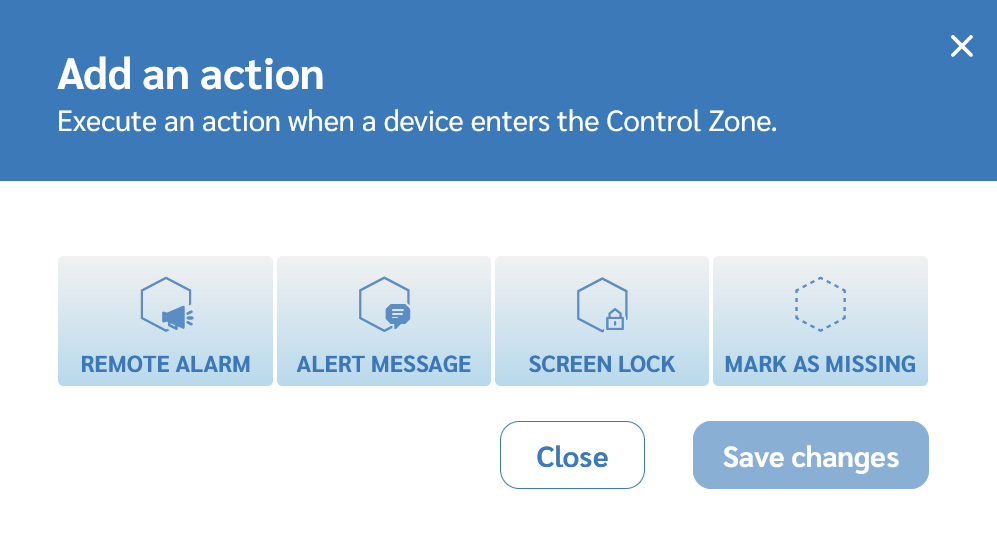 Control Zones not working as expected?
Increase the size of the Control Zone: If the size is not big enough you may receive false alarm notifications that would defeat its purpose. Please always consider a size bigger than what is actually expected in order to avoid this issue, or test Control Zone sizes until you get the expected result.
Do not use special characters while setting the Control Zone:  We have seen cases in which using special characters may generate issues as they may not be properly read by our system.
Something different? Please reach out to us at help@preyproject.com or through the form you can find on your Prey panel.